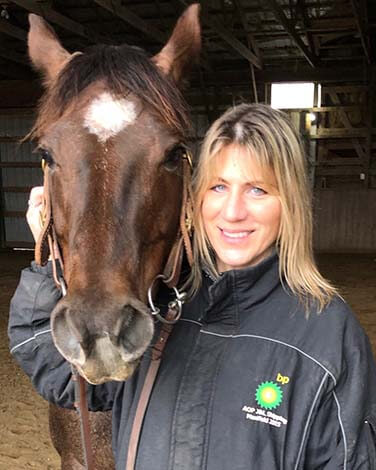 Darcy Lash
President
Darcy Lash has always owned a horse or a pony. As a young person she never had any formal training with horses, but has always been in the company of horses and considers them to be an integral part of her daily life.
She graduated from high school and worked as a groomer for 5 years at a horse race track in the Chicago-land area. She eventually found her way to college to obtain a masters degree in industrial chemistry and worked in the industrial field for 12 years.
During her time as a chemist, she rescued 13 horses in need of acute medical care and months of good nutrition. She boarded the horses at a nearby barn until she was able to lease a facility. From there a successful boarding barn was established and all of the horses were returned to good health and adopted out to permanent homes.
While running a successful boarding barn, Darcy had the opportunity to go to medical school and she sold the business and went on to achieve her medical degree. During her pursuit of her MD she was also able to achieve a masters in clinical trial administration.
She graduated medical school in 2015 and completed her residency in Terre Haute Indiana and is currently a hospitalist with IU Health. During her residency she noticed a disturbing trend with the youth population in underserved areas. She noted that drug use was very prevalent in both rural and urban communities and there were very limited resources dealing with education and prevention of drug abuse in the adolescent population.
Near the end of her residency one of her attending physicians handed her an article describing the benefits of equine therapy for recovering addicts, PTSD and autism. From this point forward, Darcy has been pursuing her dream of establishing a community equine facility that could provide equine therapies with the goal of improving the emotional well being of, at risk youth populations and victims suffering from anxiety, PTSD and addiction. Darcy is not only an experienced equestrian but also has the medical background to serve the community in which lives.